If playing bass for the notorious Unband, penning Gentlemanly Repose, the finest drunk-rock book ever written, and starring in the film We Like to Drink, We Like to Rock and Roll doesn't qualify Mike for a PhD in Debauchery, then civilization has been a complete and utter waste and should be destroyed immediately.
First taste
Ballantine's Scotch, rocks; twice as old as I was at the time.
The usual
Good vodka and soda (no fruit) for walking around; Belvedere martini (up, bone dry, twist) for sitting.
You've got 20 bucks
Token tips for the generous bartenders and restaurant operators who know I'm a little short this week—someday I will give them what I always tell them I will. Or a couple bottles of wine or beer, if I'm not drinking.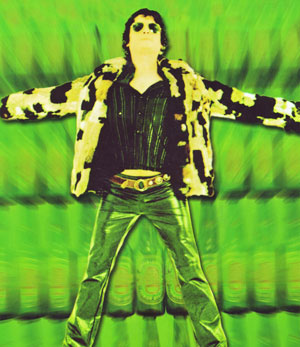 Drunkest Ever?
I'm not really the one to ask, but I have a feeling this is at least in the running: I raised a glass in a bar in Times Square and a minute later was on a beach, ripped awake by the incoming tide and Satan, he having taken the form of the sun. The beach turned out to be on Cape Cod, and the minute turned out to be three days. I had only one shoe, zero money, and my watch was missing, presumed swapped for whatever physic kept me alive in the wormhole. Doing the only thing I possibly could, I went looking for a marijuana joint and a restaurant job. In the course of this, I met some animalistic locals who offered me couch space in their beach house, in part because I suggested that they fix their crumbling porch by blowing it up with a homemade bomb, which we did later that day. Anyway, maybe (maybe) my drunkest ever was at their 4th of July party, some weeks later. I don't remember what I did, but I seem to remember there was something about it in The Cape Cod Times.
Dream bender team
Lord Byron, Edgar Allan Poe, John Lennon, and Peter Cook.
Describe the evening
Alarming, involving the luckiest piano in the world.
Mark of a good bartender
Locks door, pulls down gate.
Mark of a bad bartender
Swastika on forehead.
Favorite bars
The Tap Room at the Bay State Hotel (circa 1993), the villainous turn-of-the-century rooming house where I lived for many years in Northampton, Massachusetts. The Tap Room was where I ate, drank, got my mail, and at the time it was in fact the cultural center of the universe; Studio 54 and the Algonquin on a New England riverboat, if there were such a thing—basically, as we say, like Paris in the 1930s. Gone now, of course.
Also, American Beauty in Osaka, Japan, because there's no better place to hide* and because by the time they find you nothing will matter.
The Mars bar in NYC because it has an incomparably affirming view straight into Hell itself.
And the bar at the Hotel Alfonso XIII, in Seville, Spain, because it's clean.
*Until now, I suppose.
Do you have a drinking philosophy?
Yes.
Surefire hangover cure
Percocet, and one or two of the usual.
Can you trust someone who doesn't drink?
I trust them to drive, usually.
Why we must drink
Imagine not drinking.