September
1 Labor Day. "A person can work up a mean mean thirst after a hard day of nothin' much." —Replacements.
Working Man's Zinfandel
2 oz tequila
2 oz scotch
1 oz cinnamon schnapps
1 oz peach schnapps
Sprite
Mix liquor with ice, top with Sprite.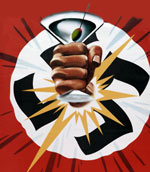 2 World War II ends (1945). Drunks save the free world from tyrannical teetotaler.
Victory Collins
1 1/2 oz Vodka
3 oz lemon juice
3 oz grape juice, unsweetened
1 tsp powdered sugar
1 slice orange
Shake with ice, strain into a Collins glass over ice cubes. Garnish with orange slice.
3 Lost Day. Good day to start a bender. Bottle of rye.
4 Looking For the Boundaries Day (Cuchumatan Indians, Guatemala Highlands). Test the boundaries of last call. Mescal.
5 On the Road published. Barhop like Cassady and Kerouac. Cheap beer.
6 Read a Book Day. See if they have a bartender's bible behind the bar. Flop the guide open and see what you get.
7 Keith Moon overdosed on drugs prescribed to combat his alcohol problem (1978). Well, it cured his drinking. Booze, hold the drugs.
8 Star Trek debuts (1966). Kirk and his lusty band of drunks are unleashed on the universe. Romulan Ale.
9 Horned Dance Festival (Pagan). Ah yes, the horned dance. You know the one. Sex on the Beach.
10 Buy a Regular a Drink Day. Wonder who came up with this one. Cheapest draft.
11 National Tricky Handshake Day. We kid you not. Left Hand Sawtooth Ale.
12 H.L. Mencken's Birthday (1880). H.L. estimated that 17,864,392,788 cocktails could be conceivably mixed from the ingredients a well-stocked bar. #5,054,458s and lots of 'em.
13 National Peanut Day. And you know what goes with peanuts. Draft beer.
14 Slaughter of the Pig at Santa Maria delle Grazie (Italian). When the Italian's have a pig roast, they really do it up. Negroni.
15 Feast of Our Lady of Sorrows. Perk her up by picking up the tab. Whatever the lady wants.
16 Day of the Great Mother (Pagan). We all know a few. Gran Ma.

17 M.A.S.H. debuts (1972). "Swill gin? Sir, I have sipped, lapped, and taken gin intravenously but I have never swilled." —Hawkeye. Gin martini, Sahara dry.
18 Captain Nelson discovered Jeannie in a bottle (1965). Was only slightly disappointed she wasn't bourbon.
Jeannie's Dream
4 oz Malibu Rum
2 oz sloe gin
2 oz orange juice
2 oz pineapple juice
2 oz 7-Up
Mix Malibu, juices and 7-Up. Gently top with sloe gin.
19 Feast of Thoth (Egyptian). The god purported to have taught the Egyptians how to make beer. Pyramid Pale Ale.
20 Alexander the Great's Birthday (256 BC). Conquered the world while on a bender. Tequila Alexander.
21 Swiss National Yodeling Festival. You never know until you try. Longneck bottled beer (to defend yourself).
22 National Wine Week begins. Week-long bender! MD 20/20.
23 John Paul Jones victorious (1779). Declare, "I have not yet begun to drink!" at last call and see how far it gets you. Boston Lager.
24 F. Scott Fitzgerald's Birthday (1896). "Sometimes I wish I'd went through those good times stone cold sober so I could remember everything—but then again, if I 'd been sober the times probably wouldn't have been worth remembering." Champagne Cocktail.
25 William Faulkner's Birthday (1897). "There's no such thing as bad whiskey. Some just happen to be better than others." Well whiskey.
26 Gilligan's Island debuts (1964). Fact: 70% of men prefer MaryAnne.
Gilligan's Island
1 oz vodka
1 oz peach schnapps
3 oz orange juice
3 oz cranberry juice
Shake, pour over ice.
27 Samuel Adams' Birthday (1722). Patriot, brewer, boozehead. Sam Adams Lager.
28 Drink As Much Beer As Possible Day. Started in Milwaukee, natch. Case of Old Milwaukee.

29 Festival of Tezcatzonctl (Aztec). All Hail the Chief Aztec God of Intoxication! Tequila.
30 Cheers debuts (1982). "Terrorists, Sam. They've taken over my stomach and they're demanding beer."—Norm. A trough of beer and a snorkel.