October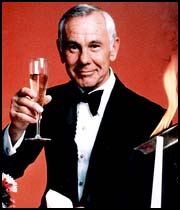 1 The Tonight Show starring Johnny Carson and world-class drunkard Ed McMahon debuted (1962). Hi-yooooo! Bourbon in a coffee cup.

2 Groucho Marx's Birthday (1890). "I don't care to belong to a club that accepts people like me as members." Country Club Malt Liquor.
3 St. Dionysus Day. The drunk monk, not the wine god. Chimay Ale.
4 Vodka Day. "Vodka is our enemy, so we must utterly consume it!"—Russian idiom in response to Soviet anti-vodka campaign. The enemy.
5 Monty Python's Flying Circus debuts (1969). "American Beer is a lot like making love in a row boat—it's fucking close to water." —Eric Idle. Holy Grail Ale.
6 National German-American Day. Their beer tastes so much better when they're not shooting at us. Bourbon and schnapps.
7 The Budweiser (Czech version) brewery begins operations (1895). You guys wanna trade? Czech Budweiser.
8 Anniversary of the Great Chicago Fire (1871). Started by a sober cow. White Russian.
9 St. Denis' Day. Patron saint against frenzies and headaches, in that order. Hair of the dog that mauled you.


10 Richard Burton and Elizabeth Taylor remarried (1975). Reuniting the century's finest husband/wife drinking team. Flat champagne.
11 Vinalia (Roman). The biggest Roman wine shindig of the year. Flagons of wine.
12 Columbus Day. Explore new bars and libations. Cutty Sark.
13 Sammy Hagar's Birthday (1947). "Once I tasted really good tequila I became a new man." Cabo Wabo Tequila.
14 Mega Kenka Matsui (Japan). Rough-house festival in which shrine palanquins jostle one another. Yes! Sapporo Beer.

15 UB40's Red Red Wine reached top of U.S. charts (1988). Suddenly drinking vino seemed kind of cool. Red, red wine.
16 Oscar Wilde's Birthday (1854). "Work is the curse of the drinking classes." Absinthe.

17 Anniversary of the First Oktoberfest (1810). Over a million gallons of beer were guzzled at Prince Ludwig's wedding. Beck's .
18 Persons Day (Canada). Celebrates the day women were recognized as "persons." Pink Lady.
19 Reptile Awareness Day. Hold your heads up high, lounge lizards. Rum and Coke.

20 National Brandied Fruit Day. In a pinch, you can mix brandy with a can of fruit cocktail. You heard me.
21 Anniversary of the Battle of Trafalgar (1805). Grog guzzlers trounce the wine snobs. Navy Rum neat.
22 National Nut Day. You know who you are. Nut Brown Ale.
23 Hungarian Independence Day. So long vodka; hello sweet, sweet freedom.
The Mad Hungarian
4oz shots Rum
12 oz Root beer
Pour rum over ice in a beer mug. Top with root beer.
24 United Nations Day. Unite the liquors of the world into one body—yours. Long Island Ice Tea.
25 Anniversary of the Charge of the Light Brigade (1854). "Their's not to reason why, their's but to do and die." Light beer.
26 Anniversary of the Gunfight at the OK Corral (1881). Doc Holliday's last words while drinking a glass of whiskey: "This is funny." Whiskey (but not funny whiskey).


27 Dylan Thomas' Birthday (1914). "An alcoholic is someone you don't like who drinks as much as you do." White Horse Scotch.
28 St. Jude's Day. Patron saint of hopeless causes. Tequiza.
29 Hermit Day. Stay home and drink all by your lonesome. Yukon Jack.
30 Feast of the Dead Children (Toltec). Oh, those creepy, creepy Toltecs. Mescal.
31 Halloween. Suit up as a historical drunk. Zombie.