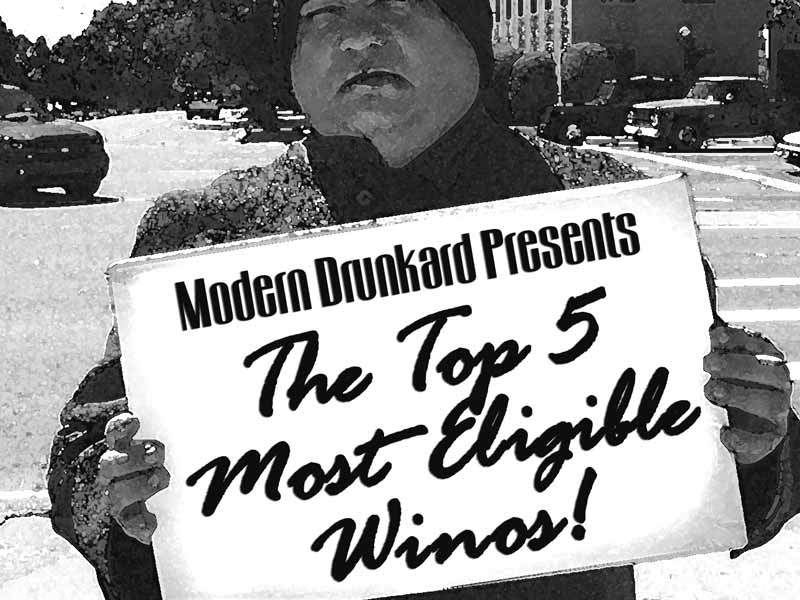 After months of roaming the back alleys and filthy bars of America, MDM tracked down and cracked a forty with five of the nation's hottest single winos. Selected from a vast sea of hobo hunks and dishy dumpster-divers, we bring you the most luscious lushes that ever stumbled out of an alley and into a girl's heart. Play your cards right, ladies, and this may be the last night you're curled up alone with a Red Baron pizza and an Ally Mcbeal rerun.
Shaky McShakerson
Age: 42
Occupation: Aroma Distributor
Resides: Aunt Seal's Double Stool Tavern, Norman, OK
MDM is proud to bring you this five-foot two-inch knee knocker who has more than proven his mastery with the ladies. His wacky conversational skills will keep you guessing, especially when he alternates between sexy, unintelligible whispers and passionate, high-pitched screeching that will make your blood run—hot! The reason Shaky's soooooo available? He's got one rule: "I tell all them dames, I'm either gettin' a free kiss or a free drink!"
Turn ons: Dry farts
Turn offs: Dames with "bar snack" breath.
His ideal woman: Women who hate kissin'.
Perfect Date: "I'd take her to the tavern, then we'd get in a fight and she'd stomp out, forgetting her purse on the bar. Also, there's lots of money in the purse."
John "Wooden Leg" Doe
Age: 43
Occupation: Median Control Officer
Resides: Kansas City, MO
No woman has been able to tie this sassy Midwestern hunk down, though the police have handcuffed him a few times. This avid camper is currently summering at exit 121B (South East corner) under call box 2270. That's right, he's got his own telephone, ladies! Please call after last call. And if you're looking for a man who's ready to settle down, look no further, sisters, this rooted Aries has been working the same median for two months straight! You can be sure this alley cat won't step out on you, especially if you "misplace" his wooden leg!
Turn ons: Red lights
Turn offs: Hail
His ideal woman: Outdoorsy.
Best Pick Up Line: "Will work for sex! Or a sandwich."
Deeter "Red Eye" Lowman
Age: 32
Occupation: Change Processor
Resides: Tarnagee, AL
MDM found this urban bourbon lover yelling at himself and a godless sky at the intersection of Harriet Tubman and Robert E. Lee parkway. If you like a man who can bring home the cold hard cash, ladies, this impish young change horse brings in three cups a day! The secret of this hard-working Leo's success? "I always press-jack my moneymaker before pulling out the get-even-stick on the one-time sally." His creed? Business before pleasure.
Turn ons: Cornpone Cindy's with back horn lotion slots.
Turn offs: Night stick Johnnies with a bruisin' agenda.
His ideal woman: "Crosstown Millies that won't uptown willie my backload."
Best Pick Up Line: Why don't we low-jack this maple horse and get skinty with the flinties? Eh? Eh, Sally?
Stephan "Gassy" Gastineau
Age: 68
Occupation: Gutter Performance Artist
Resides: Denver, CO
Gentlemen will get a load out of this well preserved Queen of the streets. A no-brainer for MDM's fourth swinging bachelor, this single artist has been performing his sword swallowing show in the alley behind Night Rumors martini bar for the last 46 years. (Show times: 12, 1, 2, 3, 4, 5, 6, 7, 8, 9, 11 and whew! 12). Just make sure you show up on time, because there's always a line!
Turn ons: Antiquing and long necks.
Turn offs: Bench hair and camel toes.
His ideal woman: One that's a man, silly! And not too smelly."
Best Pick Up Line: "Keep your hands out of my fucking hair and I won't bite it off!" Sassy!
Forest Lawn
Age: 35
Occupation: Urination Placement Specialist
Resides: Los Felis, CA, Forest Lawn Cemetery
This shit-faced sun bunny has an ocean of love and plenty of flowers for his special ladyfriends. Mr. Lawn may have a small bladder, but he's got a big heart, hundreds of fist-waving Californians can't be wrong. He may not be rich (yet!), but this dreamy dreamer plays the lotto at least once a month and figures he's got to win sooner or later, "unless the fucker's rigged." Asked where he'd be in five years, our most motivated bachelor pointed across the street and said, "Over there."
Turn ons: Drunk widows on Memorial day.
Turn offs: Disdainful stares from librarians; lawn mowers.
His ideal woman: A lady who's got her act together.
Perfect Date: Take her to really nice French restaurant that doesn't lock up the dumpster."
—Troy Baxley and Roger Rittenhouse