For seven decades the legendary Williams family has sang about the bottle. Now it's Hank Williams III's turn.
First taste: I was four or five, I remember sticking my finger in a glass and licking it off.
The usual: Jack and Coke. When I'm on stage it's whatever they got.
D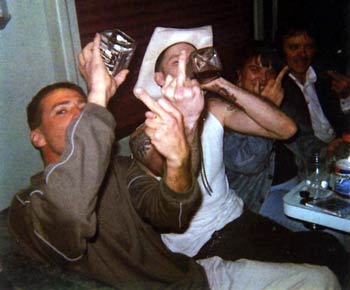 runkest on stage: I probably just fell down from trying to rock out or head butting some friends.
Why we must drink: To not be sober. I had to start drinking to understand some aspects of country music.
The bar on the bus: Fridge full of beer and a bottle of Jack Daniels a show.
Ever get sick of answering questions about your grandfather? Still not sick of talking about Sr. I'll never get tired of it.
Best city to booze in: Wherever I have the most friends that are buying and wanting to show us a good time.
Why the hooch and heartbreak left country: The radio stations and CMT and bullshit Music Row killed country. There needs to be more outlaws today.
Drinking songs: Couldn't tell ya how many drinking songs I know but I know a few, I would say.
Three musicians (living or dead) you'd like to go on a bender with: Sid Vicious, Jerry Lee Lewis, and GG Allin.
Describe the evening: I'd say a drunk punch fight.
Are you going to do a "wide release" hellbilly album? Don't know. Curb Records is in the way. He needs to be killed.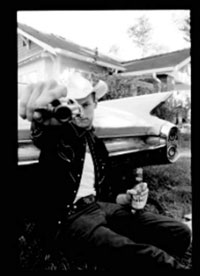 Drinking ritual: No drinking rituals, just bottoms up. If you're into drinking, fucking knock it back, go crazy. If you're not, more power to ya.
How long have you been a vegetarian: Nawww, I eat meat. I'm skinny enough as is. Fuck the veggie shit.
Drinking on the road: I love the road when I'm healthy and hate it when I'm too sick to party, which is like every 6 weeks. I'm sick as fuck but no matter what the show must go on.
Line from a drinking song that best sums up life: I drink to think.
You can check out Hank's country music at hank3.com and his side
project with Philip Anselmo from Pantera at superjointritual.com.
—Interview by Nick Esposito