"I was in love with a beautiful blonde once. She drove me to drink. It's the one thing I'm indebted to her for."
— W.C. Fields, Never Give A Sucker An Even Break
In the 100-plus year history of motion pictures, no performer has been more associated with strong drink than W.C. Fields. His preeminent position as Hollywood's supreme souse is richly deserved: During the 1930s and 1940s, the celebrated comedian produced a string of hilarious feature films and short subjects overflowing with booze-spiked humor. On screen, his characters would go to any length to get booze into their bloodstreams, whether it meant sneaking sips behind the back of a nagging wife, chasing an off-duty bartender down a city street, distilling homemade hooch, or jumping out of an airplane to retrieve a falling bottle. Off screen, Fields was just as fond of stimulating beverages, and indulgent directors allowed W.C. to arrive late to the set, drink on the job, and leave early when his glow became too rosy, because they knew that their star was always at his most creative with a healthy snoot-full.
Of course, Fields was much more than a walking billboard for the liquor industry. He was a phenomenally talented comic actor, juggler, writer, and improviser — in short, the funniest man, drunk or sober, to ever step in front of a movie camera. His comedy was unique among the classic film comedians in that it drew laughs for wonderfully ill-tempered, misanthropic behavior. Not only were Fields' characters drunkards, they were also dishonest, profane, child-hating, prone to boasting, lecherous, and even, on occasion, physically violent. W.C. Fields was politically incorrect long before the term existed.
Much of the secret as to why Fields' mean-spirited humor connected with audiences was that his characters usually absorbed more abuse than they dispersed. Whether portraying an unscrupulous con artist or a henpecked family man, W.C. was eternally the underdog, and his wrath was only unleashed after patiently enduring abuse or public embarrassment from shrill relatives, bill-collectors, dullards, policemen, small children, or dogs. Consequently, his anger was understandable, as was his heavy drinking.
Unfortunately, the Great Man (as he was rightfully known) and his work are largely unknown to contemporary audiences. This is primarily due to the inaccessibility of his films. Fields' movies are rarely broadcast on television, and many of his best titles have never been released on video. Worse yet, those of the under-40 set who have heard of W.C. Fields usually have an inaccurate view of the comedian. The Great Man's 100-proof reputation has been watered down over the years due to second-rate impersonations by lesser comics, which rarely capture the distinctive nasal twang of Fields' voice and never capture the essence of his comedy. Furthermore, the Great Man is the most misquoted figure of the Twentieth Century. Over the years, the hysterically funny things W.C. actually said in life and on film have been largely drowned out by thousands of humorless quotations created by others and credited to the Great Man.
It is ironic that Fields' work has faded from public consciousness faster than that of his contemporaries —such as the Marx Brothers, the Three Stooges, or Abbott and Costello — because his humor has held up better and has had a greater impact on modern comedy than that of any of his peers. Such misanthropic characters as John Cleese's Basil Fawlty (Fawlty Towers), Rowan Atkinson's Edmund Blackadder (Black Adder), Billy Bob Thornton's Willie Soak (Bad Santa), and Larry David's Larry David (Curb Your Enthusiasm) would be unthinkable had Fields not previously fought the censors and pushed the boundaries of minsanthropic humor.
W.C. Fields' work is as fresh and funny today as it was upon its original release, and is ripe for rediscovery. If you've never witnessed the Great Man in action, you are doing yourself a disservice. However, this condition, like sobriety, can easily be corrected. I highly recommend that you pour yourself a tall glass of your favorite intoxicant and treat yourself to a Fields film festival. The following list of the Great Man's greatest is a perfect place to start.
Despite the success of Fields' shorts, the bigwigs at Paramount were hesitant to let him carry a film on his own. Consequently, most of W.C.'s early sound films were multi-star vehicles. In International House, for example, Fields was required to share screen-time with Peggy Hopkins Joyce, Burns and Allen, Rudy Vallee, Cab Calloway (performing "Reefer Man"), and even Bela Lugosi. Still, International House is the best of Fields' all-star movies because the director, Eddie Sutherland, allowed Fields free reign to improvise and embellish his scenes.
As Professor Henry R. Quail, Fields drunkenly pilots his Auto-Gyro (half airplane/half helicopter) thousands of miles off course. He's headed for Kansas City, but he lands in Wuhu, China, just as his supply of beer runs out. Luckily for our hero, there's plenty of booze to be had at Wuhu's International House Hotel.
What He's Drinking
Beer, champagne, whiskey, and a variety of other hard liquors (based on the scattered empties).
Intoxicating Effects
Drunk flying, destruction of property, public disturbance, hiccups.
Potent Quotables
QUAIL (to a valet): Hey, garcon. Bring me a drink.
VALET: Water, sir?
QUAIL: A little on the side…very little.
Tipsy Trivia
Fields often succeeded in slipping dirty lines past the censors. When Peggy Hopkins Joyce asks what she's sitting on, Fields picks up a cat and replies, "Ah, it's a pussy."
Video Availability
On DVD as part of the W.C. Fields Comedy Collection box set.
Although Fields drank immoderately on and off camera, he rarely played a scene in which he appeared pie-eyed drunk. The major exception is in You're Telling Me!, the first sound film in which Fields was given the solo lead. The movie opens with a masterful drunk scene, in which Fields staggers home, removes his shoes to avoid waking his wife, loses his hat repeatedly, and has to resort to using a funnel to insert his key in the keyhole. Once indoors, he manages to get entangled in the hallway curtains to the degree he nearly strangles himself.
Fields didn't script You're Telling Me!, and on the whole, the comedy has a softer edge than the classic W.C. Fields films that would follow. Still, the Great Man gets away with several amusing moonshine-laced gags, and Fields classic golf routine (which he tacked onto the end of the story) alone makes the film a must-see.
What He's Drinking
Moonshine, imported whiskey.
Intoxicating Effects
Staggering, bad breath, punch spiking.
Potent Quotables
MRS. BISBEE: Suppose she were entertaining a nice young man in her home, and you came in looking like that, with your shoes off, suspenders down, and your breath smelling of cheap liquor?
SAM BISBEE: Cheap? Four dollars a gallon.
Tipsy Trivia
Fields had performed his golf routine twice before on film, in the silent feature, So's Your Old Man (1926), and the sound short, The Golf Specialist (1930).
Video Availability
VHS only.
With the success of You're Telling Me!, Paramount let W.C. pen the plot for his next feature, The Old Fashioned Way. In doing so, Fields created one of his most endearing characters, the Great McGonigle, the dishonest head of a traveling theatrical company. His character leaves a trail of bad notices and unpaid bills in his wake as he moves his troupe from town to town performing the classic melodrama, The Drunkard (what else?).
In his films, Fields often portrayed charlatans and hucksters based on the crooks who'd cheated him during his early days on the road. The Old Fashioned Way is the best of these movies for several reasons. First, it features the classic battle with child-actor, Baby LeRoy. No other comic of the time (and few since) could get away with booting a small child and make the audience love him all the more for it, but Fields pulled it off with aplomb. Second, The Old Fashioned Way contains the only filmed record of W.C. performing part of his legendary juggling act.
What He's Drinking
Fields swigs patent medicine (presumably alcoholic), and the "drunkard" of the play gets soused on brandy.
Intoxicating Effects
Fields displays no effects, but the "drunkard" exhibits slurred speech, staggering, brawling, and creates a public disturbance.
Potent Quotables
MARY: I must remain and find my husband.
MCGONIGLE: He would laugh in his drunken ribaldry could he hear you speak thus.
Tipsy Trivia
Fields briefly dated Judith Allen, the actress who plays his daughter in the film.
Video Availability
Never released on video.
When most people think of W.C. Fields, they imagine him dressed in a top hat and checkered coat portraying an itinerant con man. However, just as often, he placed himself in the role of a hen-pecked family man in comedies that exaggerated the aggravations of everyday life. Most of Fields' best films fall into the latter category, including It's a Gift, his only film to crack the American Film Institute's list of the "100 Funniest Films."
Fields stars as Harold Bissonette (pronounced Biss-o-nay), a grocer beset with aggravation — at home from a nagging wife and two ill-behaved kids —and at work from a dimwitted employee and demanding customers, including an astoundingly obnoxious blind man that destroys merchandise with every swing of his cane. The film reaches its painfully funny peak with a classic set piece in which Fields, driven outdoors by his wife's nagging, tries to get some sleep on a porch swing. At every turn, his slumber is interrupted by various neighbors, clanking milk bottles, a coconut falling down three flights of stairs, a squeaking clothes line, a toddler with an ice pick, and an insurance salesman trying to find Carl LaFong: "Capital L, small a, capital F, small o, small n, small g. LaFong, Carl LaFong." Frustration has never been funnier.
What He's Drinking
Unidentified liquor in a flask (referred to as "reviver"), gin.
Intoxicating Effects
Harmonizing, unbridled bravado.
Potent Quotables
BUSINESSMAN: You're drunk.
HAROLD: Yeah, and you're crazy. But I'll be sober tomorrow, and you'll be crazy for the rest of your life.
Tipsy Trivia   W.C. previously performed a version of the porch swing scene in the excellent but rarely screened silent feature, It's the Old Army Game (1926). Of course, the scene plays better in It's a Gift with the addition of exaggerated sound effects and Fields' sour mutterings.
Video Availability
On DVD as part of the W.C. Fields Comedy Collection box set.

No character W.C. Fields ever played had more reason to drink than Ambrose Wolfinger, the hero of the hilariously painful comedy, The Man on the Flying Trapeze. Over the course of the film, Ambrose suffers on a Job-like scale —getting arrested for manufacturing liquor without a license; being wrongly accused of having an affair with his secretary; receiving four traffic tickets in a row; and absorbing numerous insults hurled by his nagging wife, mother-in-law, and good-for-nothing brother-in-law. It's no wonder he drinks in the bathroom while pretending to brush his teeth.
Eventually Ambrose's wife and his in-laws receive their comeuppance, after Wolfinger accidentally sets off a series of events by skipping work to attend a wrestling match. Incidentally, Ambrose gets out of work by lying to his boss that his mother-in-law died by drinking poison liquor.
What He's Drinking
Homemade applejack.
Intoxicating Effects
Harmonizing, jail time.
Potent Quotables
MRS. WOLFINGER (from the bedroom): What are you doing in the bathroom?
AMBROSE: (Takes a drink of applejack) Eh, brushing my teeth, dear.
MRS. WOLFINGER: I don't know what's come over you lately. You're always in that bathroom brushing your teeth.
Tipsy Trivia
The secretary with whom Ambrose is accused of having an affair is portrayed by Fields' real-life mistress, Carlotta Monti.
Video Availability
Never released on video.
Fields was forced to take a two-year hiatus from the movies due to illness. However, during that time he gained more popularity than ever appearing as a guest on Edgar Bergan's radio show, where his verbal feud with Bergan's ventriloquist dummy, Charlie McCarthy, became legendary. When Fields' health improved and he began working for Universal, it was natural for the studio to exploit his radio popularity on film by teaming the Great Man with the dummy.
In You Can't Cheat An Honest Man, Fields plays the most unscrupulous of all of his huckster characters, Larson E. Whipsnade ("It's not 'Larceny.' It's 'Larson E.'"). As the proprietor of Whipsnade's Circus Giganticus, the Great Man has plenty of opportunity to trade insults with his wooden nemesis, because Bergan is employed by the circus in the role of a magician/ventriloquist.
What He's Drinking
Whiskey.
Intoxicating Effects
Boasting, public disturbance.
Potent Quotables
WHIPSNADE: Some weasel took the cork out of my lunch.
Tipsy Trivia
Fields was offered the role of the Wizard of Oz in the MGM classic, but he reluctantly turned down the part due to a scheduling conflict with You Can't Cheat An Honest Man.
Video Availability
On DVD as part of the W.C. Fields Comedy Collection box set.
Since the pairing of Fields and Bergan had resulted in a box office smash, Universal tried to create another winning team by co-starring the Great Man with the risqué comedienne, Mae West, for his next project. Although the Western comedy provided another hit for Universal, the pairing of the comedians was not as successful. The personalities of W.C. Fields and Mae West were each too strong to mesh well together onscreen, and they both fared best in the scenes where they performed separately. Still, the movie is well worth watching to see Fields as Cuthbert J. Twillie, tending bar, cheating openly at cards, and drinking Mae West's perfume for its alcohol content.
What He's Drinking
Whiskey, perfume.
Intoxicating Effects
Hangover, boasting, slurred speech, hiccups, and physical violence.
Potent Quotables
TWILLIE (nursing a hangover): I feel as though a midget with muddy feet had been walking over my tongue all night.
Tipsy Trivia
Mae West was a teetotaler, and she had a clause written into her contract that allowed her to shut down the set if she ever caught Fields drunk. Stories vary as to whether she ever acted upon it, but everyone agrees that Fields continued to drink unabated throughout the shoot.
Video Availability
On DVD as part of the W.C. Fields Comedy Collection box set.
Comedians tend to produce their strongest work in their youth, but at the age of 60, W.C. Fields wrote and starred in The Bank Dick, an acknowledged masterpiece of screen comedy and arguably his finest work. Universal gave Fields full creative control on the picture, and he took full advantage of it, filling the film with jokes on all of his favorite themes — disapproving family members, malevolent children, pompous authority figures, and most of all, booze.
In this classic, Fields portrays Egbert Sousé (accent grave over the "e"), a small town layabout, who spends his happiest hours downing cocktails at the Black Pussy Café. After accidentally disrupting the getaway of a couple of bank robbers, Sousé is rewarded with a job as a security guard and is soon involved in embezzling bank funds. The paper-thin plot serves as a framework on which to hang a number of alcohol-fueled gags, including a memorable sequence in which Fields slips the bank examiner a Mickey with the help of the Black Pussy's bartender, Joe (Stooge Shemp Howard).
What He's Drinking
Straight rye (referred to as "poultice" and "depth bomb"), rye highballs, absinthe.
Intoxicating Effects
Boasting, swearing (of a sort), hiccups, slurred speech, staggering, passing out, and Mickey-slipping.
Potent Quotables
SOUSE (to his bartender): Was I in here last night, and did I spend a twenty dollar bill?
JOE: Yeah.
SOUSE: Oh, boy. What a load that is off my mind. I thought I'd lost it.
Tipsy Trivia
The Black Pussy Café was the name of a real bar and grill in Santa Monica owned by Fields' friend, the comic actor Leon Errol.
Video Availability
On DVD as part of the W.C. Fields Comedy Collection box set.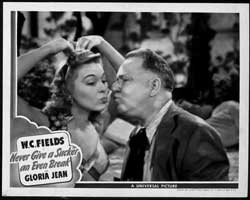 The Great Man had begun butting heads with the bosses at Universal Studios over creative interference and censorship, and he used his next film to satirize those battles for comedic effect. In Never Give a Sucker an Even Break, W.C. plays himself, a troublesome writer/actor by the name of Bill Fields. Yet, despite the use of his real name and a movie studio setting, no film he ever made was less grounded in reality.  Sucker is the Great Man at his most outlandish, surreal, and inebriated.
As the character of Bill Fields reads his proposed script to the head of Esoteric Pictures, the film-within-the-film depicts the loony action —W.C. jumps from an airplane to recover a fallen liquor bottle, landing in the nest-like dwelling of the beautiful Ouliotta Delight and her ghastly mother, Mrs. Hemoglobin, a woman he later courts after downing several snorts of 100-proof goats milk! Of course, the studio head in the film refuses to produce the Great Man's script, and in reality, Universal refused to produce any more Fields vehicles after Sucker was completed. Although W.C. would appear briefly in four later movies, he never again wrote or starred in a film of his own. Still, Never Give a Sucker an Even Break serves as a fitting chaser to a 100-proof film career.
What He's Drinking
Whiskey, goat's milk (spiked with alcohol).
Intoxicating Effects
Hangover.
Potent Quotables
SECRETARY (on the phone): You big hoddy-doddy, you smoke vile cigars all day and drink whiskey half the night. Someday you'll drown in a vat of whiskey.
FIELDS: Drown in a vat of whiskey; death where is thy sting?
Tipsy Trivia
Fields' rival for the hand of Mrs. Hemoglobin is played by Fields' pal and real-life Black Pussy owner, Leon Errol; and Fields' mistress, Carlotta Monti, plays the producer's receptionist.
Video Availability
Previously released on VHS and laserdisc but currently out-of-print.
—William Garver