The near-symbiotic bond between alcohol and athletics goes back thousands of years and their lengthy shared history has produced innumerable athletes who played hard and played harder.
Rotisserie-leaguers getting giddy off Corona Lights at backyard BBQs need not apply. Same goes for steroid mutants, who are free to flaunt their pumpkin-sized noggins elsewhere. We're after old-school pros here.Athletes with the testicular fortitude to raise the roof tonight and perform with perfection tomorrow.
They are a dying breed.
The Feeding Frenzy
The media as we know it today is very different than that which covered golden-age athletics.
In the first place, there's just a hell of a lot more of it now. Instead of one or two daily papers and a local radio show, we've got dozens of cable and satellite channels devoted entirely to sports. The radio dial has more sports-talk programs than an old hound has ticks, and newspapers devote more column inches to sports than world events. And the digisphere, from YouTube to MySpace to legions of independent bloggers, is a 24/7 nirvana for sports fans. The result of all these reporters and enthusiasts snuffling around the sports world like truffle-besotted hogs is that there isn't a single molecule of sports information that isn't poked, prodded, dissected, and analyzed to the point that it is rendered meaningless. An athlete today can barely let off a decent fart without engendering a round-table discussion on Behind the Lines or Real Sports, complete with weighty commentary from both the pro- and anti-flatulence camps.
Golden-age sports reporters, on the other hand, adhered to an unwritten code, maintaining that "what happens on the field is news; what happens off the field is none of our business." Players were relatively free to spend their off-field hours living as they wished without fear of constant scrutiny.
And for many athletes, living as they chose meant going out after—or, hell, during—a game looking for boozy fun.
The Beer and Whiskey League
In 1881, the six-year-old National League was fast becoming the standard by which other professional baseball organizations were judged. William Hulbert, its founder and president, wanted to reinvent baseball as an exemplary of strict Victorian values. To that end, his teams did not play on Sundays, in honor of the Sabbath, and his players were bound to authoritarian codes of conduct covering everything from how they dressed and comported themselves outside the ballpark, to their language (absolutely no naughty words!), to, yes, their alcohol consumption. Hulbert favored prohibition, and National League parks were forbidden to sell alcohol on game days, not even beer.
One team, the Cincinnati Red Stockings, was expelled from the League in 1881 for daring to sell beer at their ballpark. By the end of the 1882 season, three more teams (St. Louis, Louisville, and Hartford) were either expelled for beer-selling violations, or quit the League in pro-beer protest. Much to Hulbert's irritation, the four renegade teams, as well as several other unaffiliated clubs, joined forces to create a new professional league, the American Association. The new organization's insistence upon selling booze at games, and its players' insistence upon drinking it, soon earned the American Association a new nickname: "The Beer and Whiskey League."
Most B&W League players earned a paltry $150 or so a month. Most were doing it for the fun of it, and that fun often meant drinking. So many of the guys drank that critics labeled the upstart league a haven for godless lushes. Within the fraternity, players who did not drink were often called "Deacon," "Parson," or "Grandma."
No one, however, ever used one of those names to describe Louisville's star slugger Louis Rogers Browning. Often called "Gladiator" Browning, he was thoroughly convinced that boozing helped his play. In the off-season, he rarely tippled, but between April and September, beginning right before he picked up his bat on the first day of training and ending upon his last out, Browning drank morning noon and night. His endless benders led one Louisville sportswriter to fondly christen him "Pietro Redlight District Distillery Interests" Browning (the "Pietro District" being Louisville's most notorious area for boozy whoop-ups.)
Among Browning's chief competitors in the hooch-drinking department was Curt Welch of the St. Louis Browns, one of the era's greatest outfielders. As far as Welch was concerned, any moment of the day was a fine one for a beer. He kept a stash of bottles on ice behind the Browns' dugout, and snuck off for a chug at every opportunity—between innings, between outs during innings, during pitching changes, before hitting the on-deck circle, or just whenever he thought no one was watching. Browns owner Chris Von der Ahe (called "Der Boss" by his players), a notable booze-hound in his own right, didn't like Welch and Welch didn't like him. They tried to patch things up over drinks, but the evening nearly ended in fisticuffs when it became clear that whenever Welch ordered a round he spent a $1 on his own drink but a mere 40¢ on Von der Ahe's. Welch's defense was that Von der Ahe was richer than Croesus and could easily pay for better liquor if he wanted, whereas Welch had to work for a living.
Welch might have also added that "Der Boss" was a hypocrite, as Von der Ahe, despite his own long relationship with booze, didn't tolerate it among his players. Von der Ahe's iron-fisted attitude toward hooch (one of the many "vices" he squawked about) contributed, some years later, to one of baseball's greatest scandals. It started when he brought a young player named Charlie Comiskey to the Browns. Comiskey had a stick up his ass nearly as long as the one up Von der Ahe's, so naturally the two men became chums. Injuries ended Comiskey's playing days after only 85 games but he lingered, ever the voice of whiny virtue. An attitude he brought with him to his first manager job, with the Chicago White Stockings (later the White Sox), where his miserly, strident, teetotaling manner rendered team morale so low that nine players were "inspired" to throw the 1919 World Series.
Other notable members of the Beer & Whiskey League include Pat "gimme six schooners for a quarter" Deasley, also of the St. Louis Browns, who used to show up on game day so besotted he sometimes suited up as a grounds keeper. Pitcher Elmer Smith was known to shout that it was "time to rush the growler" (a 5¢ pail of beer), at the end of every game, win or lose.
Toad Ramsey, the bane of Louisville manager Honest John Kelly's existence, was regularly fined $50 (an astronomical sum in those days) for "going on benders with scarlet women."Toad was, incidentally, far and away the best pitcher in the B&WL, winning 114 games.
Then there was the original incarnation of the New York Mets, who won the American Association championship. The Mets were an entire team of drinkers. As their star batsman Jack Lynch said: "There never was a team who lushed more beer, won a championship, and had fewer properties to do it with than the Mets."
Sadly, the American Association lasted only nine years (1882-1891). Its demise lay not in beer vending, Sunday games, or boozy players, but in bad financial management. Some of its athletes were absorbed back into one National League team or another, while others faded into retirement. It is a sad testament to America's ambivalence about alcohol that no member of the Beer & Whiskey League has been inducted into the pro baseball Hall of Fame.
It goes without saying that the aforementioned heroes would make the Pro Drunkards Hall of Fame on the first ballot.
Major League Lushes
The B&WL may have collapsed in 1891, but drinking one's way around the diamond continued unabated, despite the actions of hostile, teetotaling owners and managers. For example:
Arthur "Bugs" Raymond: The owner of a wicked spitball, Bugs (who got his nickname from his weird windup and generally twitchy mound antics) was a manager's nightmare. He didn't like being told what to do. By anyone. When word of his epic nights on the town started getting around, his manager, John McGraw, hired a private detective to tail Bugs and report back on his activities. The detective was fired when McGraw entered a bar and found the PI and Bugs in the midst of a drinking contest. Bugs' friend and fellow hurler Christy Mathewson warned teammates that "after a night out, don't get too close to Bugs, his breath will stop a freight train."
George "Rube" Waddell: One of MLB's first superstars, Rube notched 349 strikeouts over his career, a record that stood for over 60 years, and he remains sixth on the all-time strikeout list. Pitching legend Walter Johnson praised Rube, saying he "had more sheer pitching ability than any man I ever saw."
Rube, who made money in the off-season wrestling alligators, could out-drink pretty much anyone. Called the "sousepaw" by Sporting News, Rube spent the whole of his first signing bonus with the Philadelphia Athletics on a bender. When his cash ran low, as it so often did in those low-paying days, Rube would trade that day's game ball for drinks at a nearby tavern. His manager, Connie Mack, decided to "cure" Rube's drinking by putting a worm in his whiskey and pointing out how the critter died a slow wriggling death. When Mack asked Rube if he understood the implication, Rube responded in the affirmative, saying, "Sure, it means I won't get worms."
Steve Bilko: In the oddball category we find this first baseman for the Los Angeles Angels. "Stout Steve" struggled throughout his lengthy career to control his weight, trying one method after another to drop excess pounds, until he finally hit upon a novel solution. As a serious beer enthusiast, Bilko always had a case or two around the locker room. One evening after a game he emptied a case of beer into a bath tub full of ice, added hot water, and—presto!—created his own beer sauna. He would sit in the resulting beer steam, alternately pouring one can in the tub and another in himself.
Jim Bouton: A pitcher for the Yankees, Bouton also wrote Ball Four, the first book to talk honestly about the world of professional baseball. The tell-all created so much controversy that one team held a book-burning, and League Commissioner Bowie "The Ayatollah" Kuhn tried to force Bouton to sign a statement stating that none of the book was true. Bouton refused, and to this day he is not invited to Old-Timers Day at Yankee Stadium.
Bouton and his teammates routinely went out for ten or so drinks after a game. It was an important ritual among the men. As Bouton recalls in Ball Four: "There is unquestionably a close feeling among the guys who go out and drink because they hash over the ball game and it gives us all a feeling of common purpose. Slogan: the team that drinks together stays together." He always had beer around the clubhouse, saying that to drink anything else (such as milk or soda) would be akin to a cowboy "walking into a western saloon, pounding on the bar, and demanding a sarsaparilla."
Bouton also records the following exchange between his teammates Jim Pagliaroni and Greg Goossen. The two men were sitting at the bar and Goossen was knocking beers back one after another.
Pagliaroni: Don't you have a game tomorrow?
Goossen: Yeah, we got a game.
Pagliaroni: You're drinking a little heavy, aren't you?
Goossen: You know something? I found I can't play if I feel good. I've got to have a little bit of a hangover to get the best out of me.
Monsters of the Midway
Compared with other professional athletes, football players are ogres; large, violent men who put their bodies on the line every play of the game. Hockey players take their shots, sure, but the skill sets for hockey and football are entirely different. Hockey is a graceful, exact, aerobic game, punctuated by moments of thudding brutality, while on any given down more than half of the 22 football players involved are dedicated solely to overpowering the opposition and pummeling them into submission. The morning after a gridiron gala, the guys feel, and occasionally look, like they got kicked around by a particularly unforgiving backhoe. Alcohol is a terrific painkiller.
The association of pro football and hooch is long and glorious. It is not the story of frightened middle managers knee-jerking their way into stadium-wide beer bans as a way of curbing rambunctious fans. It is not the now ubiquitous story of millionaire athletes getting popped for DUI. It is not the story of steroids, human growth hormones, protein shakes, amphetamines, vitamin supplements or Gatorade. It's the story of hard men knocking heads with other hard men, then recovering and refueling one drink at a time.
Drinking As Men Drink
The following is a collection of snapshots of some 100-proof individuals and teams.
The Oorang Indians: Among the young NFL's oddities, the Oorang Indians, from LaRue, Ohio (they were named after the Oorang dog kennels) played the '22 and '23 seasons. They were an all-Native American team, and their standout player was Olympic gold medalist Jim Thorpe.
Thorpe and his fellows weren't the best team that even stomped the turf, but they stand high among the thirstiest. Under Thorpe's experienced hand, the Indians spent about as much time drinking as they did practicing. They once refused to take the field for a game because their changing room was insufficiently stocked with booze.
On another occasion, the night before a game against the Chicago Bears, the Indians were out carousing when the bartender tried to boot them out at closing time. The Indians refused to leave. Instead, they gang-tackled the unfortunate fellow, locked him in a phone booth, and continued drinking until dawn, at which point they freed the man and left him with a pile of cash. Two days later, in St. Louis, they stayed out so late drinking that they missed their morning trolley to the stadium. Not wanting to miss a game check, the tipsy teammates blocked a trolley going in the opposite direction, lifted it off the tracks, turned it around, and paid the conductor to double-time it to the stadium.
Following his football career, Jim Thorpe, who remained a serious drinker, worked as a security guard and, fittingly, as a bar bouncer.
Lenny Ford and Don Colo: Standouts on the great Cleveland Browns teams of the 1950s, defensive end Ford and defensive tackle Colo were large, dangerous men who took immense pride in stomping the crap out of opposing players, especially quarterbacks. Close friends off the field, they were unrepentant boozehounds and lively party guests who never met a team rule or curfew they didn't circumvent or ignore.
The Browns were coached at the time by the legendary Paul Brown, a strict disciplinarian and something of a party-pooper, who felt that drunken off-field monkey-business harmed the game's reputation and kept men from operating at full steam. He butted heads with Ford and Colo on a daily basis. Brown berated the pair, cajoled them, and fined them loads of money, all to no avail. Their grand imbibement couldn't have been that detrimental—Ford and Colo were the defensive lynchpins of a team that went to the NFL championship seven times between 1950 and 1957, won the trophy in 1950, '54 and '55, and Ford is in the Hall of Fame.
Tim Rossovich: "Rosso" was a character (or, according to some, a deranged lunatic) in a league full of characters. The Eagles linebacker was known as the NFL's first flower child. He wore his hair in a big afro, dressed in tie-dyes and bell-bottoms, and always slept with his head facing north so that the Earth's magnetic waves could revitalize him while he slumbered. On the field, however, Rossovich was anything but a peace-loving hippy. Utterly fearless and a devastating tackler, during a game with the Atlanta Falcons in 1970 he shouted across the line at the Falcons' running back: "I love you, man, but I gotta wipe you out."
For Rossovich, drinking was as natural as breathing, and booze cranked his already oddball behavior up a few notches. He once arrived late for a party at Steve Sabol's house. When Sabol opened the door he found a loaded Rosso standing on the stoop with his hair on fire. Sabol extinguished the blaze with a blanket, and when the smoke cleared, Rosso got to his feet and said, with a completely straight face, "Sorry, I must have the wrong apartment,"  and left.
At another party, he stripped naked and did a neat half-gainer…into a birthday cake. Rosso always insisted on driving when he and his pals went out on the town, and always freaked them out when he stopped the car by slamming it into the bar's outside wall.
Among Rosso's teammates was future coach and ESPN pundit Mike Ditka, who once challenged Rossovich to a contest: Who can open the most beer bottles with his teeth? Thirty minutes later, Rossovich was insurmountably ahead, with one hundred bottles to Ditka's three. At which point, Rosso, apparently bored, started eating his beer glass—crunch, crunch, crunch—smiling insanely at Ditka all the while. Ditka went pale and promptly withdrew from the contest.
Had a severe knee injury not prematurely ended his career in 1973, Tim Rossovich would probably be remembered today as one of the game's greatest linebackers. He had a successful second career as an actor and stuntman, appearing on some 400 TV shows, including Dallas, Fantasy Island, The A-Team, Magnum P.I. and Wonder Woman, as well as in over 50 feature films, including The Long Riders and The Sting II.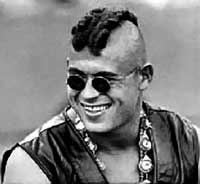 John Riggins: It was a crazy day when the Genetic Lottery turned out former N.Y Jets and Washington Redskins running back John Riggins. To say he was his own man is to say William Shakespeare wrote a few cute poems.
As a rookie, he arrived at the Jets training camp (after holding out over a contract dispute) shirtless, barefoot, dressed in tight leather pants, and wearing a derby hat with a long feather in its band. Doffing the derby, his teammates were surprised to see his hair cut into a mohawk. Riggins held out again in 1980 after being traded to the Redskins, and when the team refused to work out a deal, Riggins, rather than kowtow to management, announced his retirement from football, roaring away from camp in a spray of gravel on his custom motorcycle. Riggins' retirement wound up more like a leave of absence, as he was back in a Redskins uniform for the start of the 1982 season, at the end of which he was named the MVP of Super Bowl XVII for racking up 166 rushing yards in the Redskins' demolition of the Miami Dolphins.
As a drinker, few have equaled "Riggo." He was a noted beer enthusiast, never far from a healthy supply of suds. When new Redskins coach Joe Gibbs went to Riggo's Kansas ranch hoping to lure "Diesel" back to football (the two had never met), he witnessed the man in all his glory. Riggins, who had been out hunting, rumbled into the yard on a four-wheeler festooned with shotguns and beer coolers. His face hidden by dirt and long hair, he wore a blood-stained camouflage get-up and carried a tallboy in one hand. Gibbs thought he had come face to face with an actual maniac. Inside the house, Riggins continued draining tallboys throughout the contract negotiations He finally informed Gibbs: "You need to get me back there. I'll make you famous." He couldn't have been more right.
Anyone who spent an appreciable amount of time with Riggins came away with a story to tell—like the time he was too hungover to make the team bus and had to hitchhike to the NFC Championship Game, or the rumor that he once played a game tripping on magic mushrooms—but an event in 1985 created almost as big a stir as his on-field heroics. Invited to a congressional dinner at the National Press Club, Riggins was seated across from Supreme Court Justice Sandra Day O'Connor. Midway through the meal, Riggins, who was consummately shit-faced and wearing cowboy boots with his tuxedo, got Justice O'Connor's attention and hollered: "C'mon, Sandy, baby. Loosen up. You're too tight." During the ensuing silence, Riggo lurched to his feet and, after a failed attempt to circumnavigate the table for a chat with O'Connor's husband, passed out under a chair. He snored contentedly through Vice President George Bush's key-note address, and was then hauled to his feet and 86'd from the ballroom by Secret Service agents. First thing the next morning Riggins sent Justice O'Connor a dozen roses.
Fred "Fuzzy" Thurston: An offensive guard for Vince Lombardi's Green Bay Packers, Fuzzy has been called one of the greatest drinkers of all time. His tolerance was so prodigious his teammates regularly scheduled drinking contests between Fuzzy and whomever the opposing team trotted out. One such match pitted Fuzzy against the Redskins' massive tackle Fran O'Brien—a bar owner and seasoned inebriate. Fuzzy arrived at the bar first and, against the wishes of his teammates, who had wagered heavily on him, "warmed up" with four beers. When O'Brien arrived, they kicked off the competition with a pitcher of martinis. Two hours later, as a gang of Redskins lugged the near-comatose O'Brien from the room, Fuzzy was up on the bar entertaining onlookers with one-armed push-ups.
Fuzzy didn't mind mixing his drinks. In 1963, he was drinking with friends at a bar in Green Bay called Spot's. Someone suggested getting out of the Bay area for an evening, and the group decided to hit a favored restaurant in Appleton. Before departing, Fuzzy had the bartender whip  up a large shaker of martinis for the road. At the restaurant in Appleton, Fuzzy drank a bottle of champagne and a bottle of red wine over dinner, then switched to stingers (brandy and crème de menthe). As the group prepared to leave, Fuzzy again arranged for another shaker of martinis to enjoy during the return trip. Arriving back in Green Bay, the gang hit a bar called Speed's, where Fuzzy stole a jug of wine from under the counter and chugged it dry. Then he switched to scotch. On the way home he bought a case of beer and drank seven before teammates dropped him at his house.
The same group had to be at an 8:30 funeral the following morning. Fuzzy was the first one up, knocking on doors and making sure people got ready in time. He was the least hungover man in the room.
The House That Snake Built
On the subject of hard men, you'd be hard-pressed to find a harder team than the mid-1970s Oakland Raiders. Led on offense by quarterback Ken "Snake" Stabler, and on defense by defensive end John "Tooz" Matuszak and linebacker Ted "The Mad Stork" Hendricks, the Raiders set a standard for good-humored debauchery that few have equaled and none have surpassed. Of their football skills, sports writer Jimmy Murray wrote: "The Raiders play like a guy jumping through a skylight with a machine gun." As for their tippling abilities, read on…
Dave Dalby: Stalwart center and the anchor of the offensive line, Dalby was a Kodiak bear in shoulder pads. A Raider to his core, he bled silver and black and never missed a party.
It's a well-known fact that players made less money in the '70s than they do today. Way less. The average NFL player's salary was $29,000 a year, and they weren't paid until the first game of the regular season, which meant they went to training camp and played preseason games essentially for free. This situation was hateful to Dave Dalby. How was he supposed to pay his bar tabs? His solution shows just how inventive a drunk can be when faced with a barrier between himself and his booze. Dalby bought two pinball machines and set them up in his room at camp. Games cost 25¢ and men lined up to play and wager. Even though they had to be repaired occasionally (in a battle between a pinball machine and a 300 lb. defensive lineman who's blitzed and pissed-off, the pinball machine always lost) Dalby's machines paid for all of his preseason bar tabs, which, according to Stabler "about equaled the national debt of Chad."
Dalby was the starting center for all three of the Raiders' Super Bowl wins, and was elected to the Pro Bowl in 1977.
Ted Hendricks: John Madden, coach of the Raiders during their glory days, was asked to describe Ted Hendricks. After a moment's thought, Madden said: "Ted's elevator doesn't go all the way to the top." In a similar vein, Stabler said: "Most Raiders loved to party, but Ted Hendricks was a party all by himself."
You never knew what might happen when you added a dose of Hendricks to your evening. He stood six-seven, weighed over 200 pounds, and physically punished his opponents to a degree that would be considered felonious in any other context. On his first day as a Raider, he rode a horse onto the practice field wearing his full uniform and pads, a spiked German Army helmet he'd painted silver and black, and carrying a stack of traffic cones as a lance. The following season, during a full-contact workout on Halloween, Ted arrived in uniform, minus his helmet. Instead he wore a hollowed-out pumpkin.
Nicknamed "The Mad Stork" in college because of his lanky frame, Ted's fellow Raiders re-christened him "Kick 'Em in the Head Ted," after his trademark maneuver of leaping over oncoming blockers, sometimes knocking them unconscious with his feet if he didn't get enough height.
Every afternoon during training camp and the preseason, employees at the nearby Hilton readied the lounge and themselves for the arrival of four giants—linebacker Phil Villapiano, defensive end John Matuszak, defensive end Otis Sistrunk, and Ted Hendricks. The men were fresh from practice and ready to do some drinking, and the bartenders knew what to pour without being asked—"Left-Sides" for Villapiano and Matuszak, and "Right-Sides" for Sistrunk and Hendricks, the drinks named for the side of the defense each man played. The drinks were simple enough. The "Left-Side" was a quadruple Chivas on the rocks, and the "Right-Side" was a quadruple Crown on the rocks. This fearsome foursome usually drank three or four "Sides" to wind down after a tough day and to ready themselves for the serious drinking that would come later in the evening.
Ted Hendricks has taken a lot of crap over the years about his antics, but his accomplishments should be enough to make the naysayers shut the fuck up. He shares the record for the most safeties with four, he was selected to the Pro Bowl eight times, he intercepted 26 passes, returning two for touchdowns, he set the post-season record for the most recovered fumbles with four, and during his 15-year career he never missed a single game. Not one.
John Matuszak: His teammates and friends called him "Tooz." Some sports writers labeled him the "Man-Beast." Sports Illustrateddesignated him one of the top five all-time NFL "bad-boys." He signed with the Raiders in 1976 after failing to "fit in" with the Houston Oilers, Kansas City Chiefs, and Washington Redskins. Prior to signing the big man, coach Madden asked Ted Hendricks if he thought it was a bad idea to add a loose cannon like Matuszak to the roster. Laughing, Hendricks said, "Look around you, John. What's one more going to hurt?"
Matuszak was huge—six-eight and close to 300 pounds. His voice was huge. His appetites were huge. He was an intimidating presence and liked it that way. With his unruly brown hair and thick bushy beard, he looked like Bigfoot, and his eyes were unmistakably those of a man who could, if he chose to, hit you so hard your great-great grandfather would feel it.
His flair for the theatrical is clearly seen in his customary manner of entering a bar. He would grab his shirt collar in both fists, rip the garment from his body, throw his head back, and roar like a lion. He was arrested several times for public intoxication and once for DUI and damaging city property after he blasted apart a bunch of road signs with a .357. All things considered, it was nice of Matuszak to offer the following to newcomers in his circle: "You can get bruised when you cruise with the Tooz."
The Raiders made it to the Super Bowl again in 1981, squaring off against the Philadelphia Eagles in the New Orleans Superdome. Turning this particular Raiders squad loose in New Orleans gave the League great pause. They imagined ugliness heaped upon ugliness and warned Raiders' owner Al Davis that he had better keep a leash on his team or else. Davis passed the warning along to Tom Flores and the rest of the coaching staff, and Flores handed it to the players in a team meeting, after which he went over it again point by point in a private chat with Matuszak. But the big man surprised everyone: "I'm going to see that there's no funny business," he said. "I've had enough parties for 20 people's lifetimes. I've grown up. I'll keep our young fellows out of trouble. If any players want to stray, they gotta go through Ol' Tooz." League and team officials breathed a collective sigh of relief.
At 3am the morning of the Super Bowl, Tooz was caught at a blues joint in the French Quarter, shirtless, marvelously hammered, and roaring like a lion.
Twelve hours later he was celebrating his second Super Bowl victory.
John Matuszak retired following that game and had some success as an actor, appearing in such movies as North Dallas Forty (the best football movie ever made in my opinion) and Caveman, but most fans remember him as Sloth in The Goonies. He died in 1989 from an accidental overdose of painkillers. He was only thirty-eight.
Ken Stabler: Snake's reputation for carousing was on a par with fellow University of Alabama alum Joe Namath's, but with some stylistic differences. Broadway Joe was a celebrity playboy at home in the glitz and glare of New York, but Snake was pure Alabama honky-tonk, a southern renegade bathed in the flickering light of a neon beer sign.
For Stabler and the rest of the team, the parties started on the first day of training camp. Among veterans, camp has a rote, eat-your-spinich quality, and Stabler, already uncomfortable with schedules and rules, felt it more acutely than most. But rather than letting it sour their moods, Stabler and his cronies decided that, since their presence was mandatory, they might as well kick out the jams. As Stabler put it: "The monotony of camp was so oppressive that without the diversions of whiskey and women, those of us who were wired for activity on no more than six hours sleep a night might have gone berserk."
Shortly after arriving in Oakland, Snake hooked up with four like-minded players, forming a hedonistic club he called the "Santa Rosa Five." In addition to himself, there was halfback Pete Banaszak, receiver Fred Biletnikoff, defensive end Tony Cline and linebacker Dan Conners. They lived in a two-room suite at the El Rancho Motel in Santa Rosa and it quickly became party-central for Raiders in need of a good time. The Five bought three refurbished refrigerators and lined them up side by side in the suite's main room. One was for snacks, the other two were exclusively for beer. Properly packed,  they could hold 20 cases.
The team was shackled with an 11pm curfew during camp. Adherence was monitored by bed-checks and a parking lot patrol (to ensure all player-owned vehicles were accounted for). Practices usually ended with a team meeting that lasted, roughly, from 8 to 9:30pm, leaving the players 90 minutes of "social time" before curfew. To the Santa Rosa Five this meant "The Circuit"—five bars before bed-check. At the meeting, the Five took seats by the door and the minute the meeting adjourned they would sprint to their rooms, clean up, and pile into Pete Banaszak's huge Buick. The idea was to drink as much as possible, pick up as many girls as possible, and get back before 11pm. After bed-check, they'd sneak out, jump into one or more of the girls' cars (thus dodging the parking lot check) and party until the wee hours. Stabler claims they never got caught and the coaches never got wise.
Later in his career, Stabler decided that since he was spending so much time in bars he might as well open one of his own. He ended up opening two in Florida, one called Lefty's and the other The End Zone.
The Raiders of the 1970s and early '80s were a team like no other. Stabler sums them up this way: "The players partied hard and played hard, and that combination may have been no small factor in why we won."
The Golden Boy

Pro football in the 1950s and '60s was dominated by three teams: the Cleveland Browns, the Baltimore Colts, and the Green Bay Packers. Within those august ranks a select handful of individual players—household names and Hall of Famers all—stood above the rest. We're talking about men like Johnny Unitas, Bart Starr, Jim Brown and, most importantly for our purposes, "The Golden Boy" Paul Hornung.
Paul Hornung was born in Louisville, KY, in 1935. His parents divorced when he was a toddler and he was raised by his mother, a clerk for the WPA. A natural athlete, Hornung played football (quarterback, running back, place kicker and safety), basketball and baseball. Football, of course, was his main gig, and his skill earned him a full-ride to Notre Dame (though he continued to work every summer at a brewery in Louisville.)
As a running back with the Green Bay Packers from 1957 to 1969, Hornung was the lynchpin of coach Vince Lombardi's ferocious offense, and the team won five NFL championships between 1960 and 1968, including the first two Super Bowls. Model-handsome, Hornung lived large on magazine covers and in several movies. He also set a standard for living, uh, lushly, that we can all look up to.
His biographer, Billy Reed, says Hornung "led the Packers, and maybe the NFL, in chasing women, hanging out in bars and nightclubs, and generally trying to circumvent the strict rules of Vince Lombardi." And famed sportswriter Dick Schaap, who spent a week with Hornung leading up to a game vs. Cleveland, summed up an average Hornung day: "At three (after practice) he'd come home, mix a pitcher of martinis, and drink martinis with Ron Kramer and the others. Then they'd go out an have dinner, a group of players. Scotch before dinner. Wine with dinner. Brandy after dinner. Then back on scotch. Every day. I lost count by the time it had reached more than 60. Also, he never went to bed before four in the morning and he never went to bed alone."
Hornung disputes the 60-drink figure, saying 30 was closer to the truth.
As his fame and income increased, Hornung adopted a storybook playboy lifestyle. He was a fixture at the best parties and clubs. In Hollywood, he frequented the Moulin Rouge and the Whisky A Go-Go, burning up the night with Don Rickles, Janis Joplin, Donna Reed, and Steve McQueen. He also loved New York, especially Toots Shor's saloon, where he knocked 'em back with Toots himself, Jackie Gleason, Frank Sinatra and Teamsters Union boss Jimmy Hoffa, who was Shor's silent partner.
Hornung retired from football in 1970, but his desire to have a good time never abated. He hosted a local sports talk-show in Louisville, where his status as a living legend allowed him to book A-list guests, including Brett Favre. They got together the morning of the show to play a round of golf. Before teeing-off, Favre suggested they "warm up" with a couple Bloody Marys. They drank eight each before the turn. Still thirsty, they decided a few cold beers would improve the look of the back nine, so Hornung bought a case, which they polished off before the 18th hole. The show went off a few hours later without a hitch.
Nothing better illustrates Paul Hornung's abilities than his actions on one December weekend in 1965. The Packers were in Baltimore for a showdown with the Colts. Hornung had been nursing an injury and didn't expect to play, so he and a friend who played for the Redskins got together with a couple girls at a bar about halfway between Baltimore and D.C. Hornung rushed back to the Packers' hotel for the 11pm bed-check, then snuck back out to meet his friend and the ladies. They caroused until well after sunrise and the half-drunk/half-hungover Hornung didn't get back to the hotel until after 8:30 Sunday morning. While eating breakfast with the team, he was approached by Vince Lombardi, who wanted to know how he felt. When Hornung lied and said he felt fine, Lombardi said, "Good. You're starting today."
Paul Hornung went out and had one of the best games of his career. He scored 5 touchdowns as the Packers shellacked the Colts 42-27 and won the Western Division title.
The next time some doofus tells you that booze and sports don't play nice together, hit him with the following list of Paul Hornung's career accomplishments:
He was active in the Army Reserves from 1957-62. During his senior season at Notre Dame he lead the team in rushing, passing, scoring, punting yards, total offense, field-goal kicking, kick off return average, minutes played, and was second on the team in tackles. He won the Heisman Trophy in 1956, the only player to do it while on a team with a losing record. He was the #1 NFL draft pick in 1957. He led the NFL in scoring from 1958-1961. In 1960 he set a single-season scoring record (176 points) that still stands today. He was named Player of the Year in 1960 and 1961. And he is a member of the high-school, college, and pro football Halls of Fame.
Note: The Author is indebted to the works of David Nemec, Lawrence Ritter, Robert Creamer, Ken Stabler, Tim Green, Jim Bouton, Mark Kriegel, Mike Freeman, Floyd Conner, Dick Schaap, Jonathan Rand, Jim Brown, Steve Delsohn, Paul Hornung, William F. Reed, Mile-High Sports Magazine, and Michael MacCambridge.