THE RUMOR
Workers at the Corona brewery in Mexico urinate in the beer vats.

THE RUMOR
Some English beers are made with fish guts.
THE RUMOR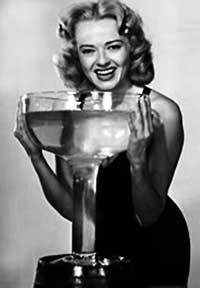 The original champagne glass was molded from the breasts of Marie Antoinette/Helen of Troy.
 THE RUMOR
Liquor companies airbrush the word "sex" and lurid subliminal images in the ice cubes in their print ads.

THE RUMOR
The founder of MADD now works for the liquor industry.
THE RUMOR
Jagermeister contains deer blood and/or opiates.
THE RUMOR
In the 1970's an Austrian chemist invented a type of liquor that doesn't cause hangovers, and was promptly killed and his recipe destroyed by the liquor industry and/or MADD assassins.
THE RUMOR
Sucking on a penny will allow you to beat a Breathalyzer test.



THE RUMOR
A secret society of boozeheads controls the world.
THE RUMOR
A man in China opened a bottle of liquor and a snake jumped out and bit him in the neck.